Our Social Responsibility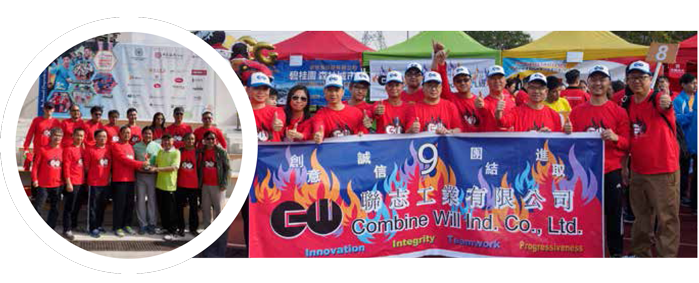 Combine Will Group regards corporate social responsibilities as core competencies to consolidate the Group. Under clear objectives and commitment, we have incorporated the elements of corporate governance, environment and employee community participation into the organization's strategy and operation through a corporate social responsibility program. In addition, we have developed a continuous and improved corporate social responsibility policy and management structure. In 2002, the Group set up a social responsibility department to report directly to the management committee, being responsible for the social responsibility co-ordination and supervision of the Group, while working closely with the social responsibility departments of the Group's subsidiary factories to jointly implement the overall planning of corporate social responsibility activities, corporate social responsibility practices, community activities, occupational safety, training and development as well as daily execution of environmental protection, so as to expect to continue to meet the requirements of the law and the clients and to continuously improve and enhance the level of social responsibility.
Combine Will Group regards employees as the most important asset and adheres to being people-oriented, constantly improving the human resources management mechanism, continuing to nurture talent and providing employees with a harmonious, diverse and safe working environment, so that employees can develop their strengths.
In 2016, we invited professional institutions and consultants to provide a number of training on social responsibilities, health and safety as well as other special topics to enhance the ability of various work teams, in order to jointly promote the driving force of continuous improvement of the various factories of the Group. A total of 82,812 attendee counts, with 150,989 hours of training were completed throughout the year 2016. On the other hand, different departments of the various factories had established a Work Improvement Team, which continued to play the team's strength and creativity in 2016, with more than 240 members participating in the team and completing more than 100 projects to improve the process and enhance the efficiency. In addition to driving the factories to promote a number of working projects of self-improvement and enhance the efficiency, it also brought together the whole Group to consolidate the spirit of enterprise.
In promoting environmental protection, Combine Will Group is committed to reducing the impact of its own operations on the environment and improving energy and resource efficiency. In 2016, in promoting energy conservation, various factories of Combine Will Group took a number of measures and publicity resulting in 2 decrease of annual electricity costs by 7.5% and water costs by 7.8%.
We wanted to be able to give full play to the business influence, and to elaborately construct to go far in the future. As such, we not only built up a harmonious living space for community stakeholders, but also organized and led employees to participate in all kinds of community activities to help communities in need. This year, the number of volunteers had reached 68 and a total of 35 volunteer activities were organized.
In this year, we again participated in the "Outward Bound Corporate Challenge 2016" charitable fund-raising campaign, which not only supported public affairs, but also let us have the opportunity to organize a group of staff to play team strength to fight a number of battles of wits and a contest, in order to achieve sustainable development vision. Furthermore, we won the third prize of the Overall Cup contest and the champion of the Toy Elite Cup, making this event more meaningful.