Our Social Responsibility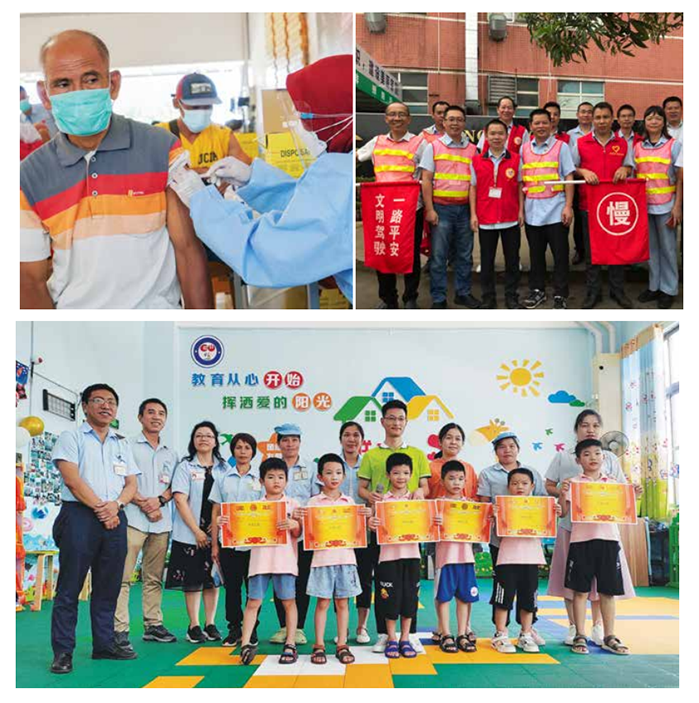 As a member of the community, it has always been Combine Will's commitment to grow together with local communities, even in the midst of economic uncertainties due to the COVID-19 pandemic. In 2021, resources and efforts were invested in the community with positive impact. Initiatives were taken for COVID-19 prevention, cleaning the environment, visiting the poor and the elderly, sponsoring education for under-privileged and employees' children.
Besides direct donations, creating equal job opportunities and supporting local economic growth by sustainable operations was another strategy of our social responsibility. We received recognition from multiple parties; for example, the Guangxi factory received the "Advanced Enterprise on Poverty Alleviation" award in 2021.
Building a diverse, equal and inclusive working environment was also an important part of our corporate social responsibility structure. All people are treated equally, not based on gender, race, physical conduct, education, religion, or age. In addition, more care was provided to the disabled, pregnant, new mothers and others that are in need.
Caring under COVID-19
To increase COVID-19 vaccination rates in local communities, a standard vaccination facility was set up in our Indonesia factory compound in 2021, under local vaccination guidelines. This was convenient for employees, employees' families and surrounding villagers to get vaccinated. As of 31 December 2021, more than 15,000 doses of vaccines of COVID-19 were administered, with more than 6,000 from the local community. During the opening hours of each vaccination day, volunteers from Indonesia managed the overall operations of the vaccination center, and some essential medicines (paracetamol, vitamin and antacids) and milk were made available for people.
Five sets of oxygen generators and oximeters were donated to a volunteer organization in Jakarta that provides volunteer care to the infected people. Three sets were donated to the local COVID-19 team from the police force.
Community Safety
To enhance the traffic safety of the local community, a traffic safety promotion program was launched in Heyuan factory in April 2021. The volunteer team went out every day to promote the importance of traffic safety for surrounding residents, particularly focusing on pedestrian and motorcycle traffic safety.
Family-Friendly Space
"Family-Friendly Space" was set up in our Guangxi factory before the summer vacation, with support from our client and an industrial organization. We successfully welcomed the first batch of 35 children, 80% of whom are the children of front-line workers. Children used to face a long summer vacation unattended; but this time, they enjoyed a happy, safe and meaningful summer vacation in the family-friendly space, under the care of two certified teachers and 10 volunteers.
Through colorful courses, games and parent-child interaction activities, children were taught to have more understanding and respect for their parents.
Scholarships for workers' children
Our Indonesia factory offered scholarships to primary school children of workers whose spouses have lost their jobs due to the COVID-19 pandemic. In addition, the company also gave out children sponsorship packages, including uniforms, shoes, schoolbags, books, etc, to further relieve financial pressure on families. Besides direct donations, connections were built with their schools to learn more about their studies and to understand their needs.
Combine Will's full Sustainability Report for FY2021 will be issued by the end of April 2022.