Corporate Profile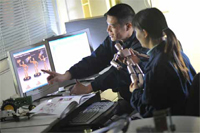 Combine Will International Holdings Limited ("Combine Will") is a leading Original Design Manufacturer ("ODM") and Original Equipment Manufacturer ("OEM"), supplier of corporate premiums, toys and consumer products.
For over 25 years, we have been manufacturing a wide range of competitively engineered custom products tailored to each of our clients' needs. We are able to achieve sustainable results by adopting a repeatable research and development ("R&D") execution model employed to drive innovation and focus on capabilities critical to building a strategic advantage. By setting a high benchmark on key performance metrics such as operational efficiency and development processes, we are able to boast an optimized production line, lower operating expenses and achieve high levels of consistency and quality. In turn, our clients are able to take advantage of these unique core capabilities to achieve their success and competitiveness.
Our clientele portfolio includes customers from Asia, Europe and North/South America and we have continuously demonstrated adequate and flexible capacity to handle production for leading multinational companies in their respective industries, ranging from toys and fast moving consumer products to international fast-food chains.
Based in Dongguan, Guangdong Province in the People's Republic of China, we have over 10,000 workers in our six manufacturing facilities located in Dongguan, Heyuan and Guangxi Province as well as our latest plan in Indonesia.